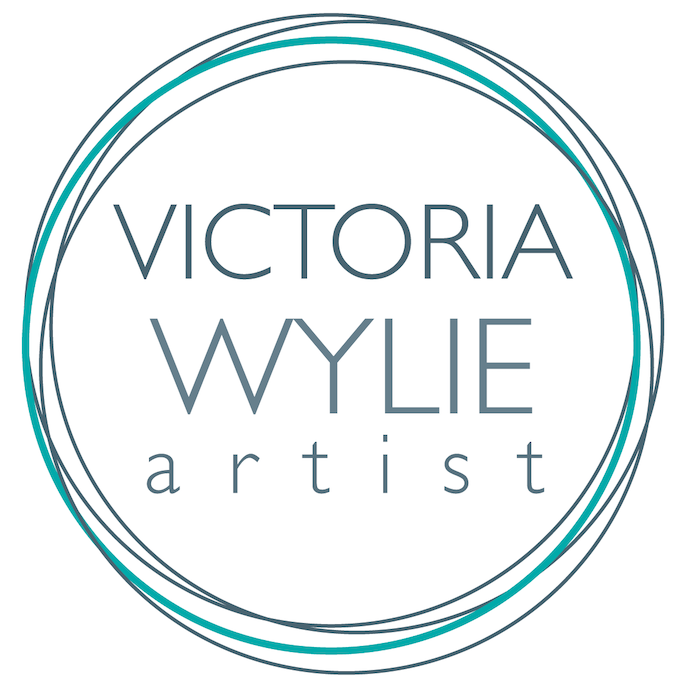 I make contemporary abstract landscape paintings from my home studio in Angus. I have a deep love of horizon lines found in remote and open spaces – and seek out colour, shapes and patterns in the places I visits. My work responds to the changing elements and the rhythm of the landscape and I explores the visual tensions that arise when sky meets sea meets land. I translates these experiences into bold, striking and abstract paintings. Each artwork is a reflection from a particular place – a memory of a moment.
Walking, running and cycling are an integral part of my practice – I explore my environment armed with a basic knowledge of the physical geography of the landscape, a geekish interest in maps and cloud formation and a desire to breathe in the intoxicating wilderness air!
I predominantly use acrylic paints to make my paintings. To create the energy and variety of marks I strive for, I also use a mixture of other media such as ink, pencils and oil pastels. I adopt a playful approach to my making – I enjoy experimenting with textures, opacity, patterns and colour. I use processes such as layering, scraping, distressing and re-painting.
I graduated from Duncan of Jordanstone College of Art + Design with a BDes (Hons) in Constructed Textiles, and went on to complete a Master of Fine Art. I have exhibited throughout Scotland and the rest of the UK and have artworks in private collections across the world.
Reviews
Just beautiful! Swift delivery too 🤩
(Etsy buyer)
Absolutely gorgeous product and lovely artist (who has a great memory!)
(Etsy buyer)
I love this print, just what I was looking for to brighten up my workspace, thank you.
(Etsy buyer)
Absolutely love this picture. The colours are gorgeous and it now has pride of place in my dining room . X
(Etsy buyer)
Excellent service. Beautiful high quality prints and mounts. Very good value. Thanks
(Etsy buyer)
Bought this as a Christmas gift for my wife and she absolutely loved it! Quick delivery and good packaging, thanks.
(Etsy buyer)
Absolutely lovely wee cards, beautifully packaged and dispatched quickly. Can't recommend Victoria's work highly enough, I have ordered from her 3 times now and have been delighted each time (and she even saved my skin last father's day by sending a miniature painting with a wee note direct to my dad!).
(Etsy buyer)
Gorgeous piece of original art. So happy with it, just what I wanted. Love the colours. Prompt delivery. Would recommend this artist, there is lots of amazing work on her etsy shop.
(Etsy buyer)
Great service and beautiful print. X
(Etsy buyer)
Love it! Super quick delivery and beautifully packaged!
(Etsy buyer)
I love the selection of cards I received.
(Etsy buyer)
Another stunning painting from Victoria and it's for me❤️
(Etsy buyer)
Helpful, professional seller. Quick to respond to queries. Items arrived really swiftly and as described. Lovely items intended as Christmas presents. May keep some cards for myself though!
(Etsy buyer)
Such beautiful artwork. Perfect cards for any occasion!
(Etsy buyer)
I will keep coming back for more!
(Etsy buyer)
Lovely little painting.
(Etsy buyer)
Love Vickys work, beautiful landscapes. Packaged with care, arrived promptly.
(Etsy buyer)
A very lovely way to improve your day is to have a fabulous print arrive from Artist Victoria Wylie. Her colour pallatte is bold in her abstract depiction of seascapes and landscapes. These are dotted with subtle details and repetition of line that effervesce the surface describing the detail of these spaces and the atmosphere they evoke. They are alive and capture the unique expanse of sky in Scotland the casts of different qualities of light and colour and bring joy to your soul.
(Etsy buyer)
Wonderful injection of colour for our living room purchasing print has transformed the space and inspired use of more bold colours in this room. It particularly work well as a series of prints we have collected 4 of Victorias prints and love the different relationships of each composition. We have bought other pieces as much loved gifts for friends and relatives who enjoy contemporary painting. A bright and wonderful addition to our home and a great gift.
(Etsy buyer)
Love the colours and atmosphere of this print. It is living very happily with a painting and ceramic piece in our bathroom and looks fantastic. Prompt delivery inspiring work brilliant shop experience.
(Etsy buyer)
A very happy Wylie owner!
(Etsy buyer)
I definitely recommend buying these!
(Etsy buyer)
They are beautiful cards!! Will definitely be buying them again!
(Etsy buyer)
I love my little watercolour. It reminds me of being on holiday which is most welcomed during these times. The service from Victoria was great. She even reminded me about a discount code. Much appreciated, thank you.
(Etsy buyer)
Delighted with our print! It was tricky to choose which print to purchase as they all look stunning!
(Etsy buyer)
I absolutely love my print 💚
(Etsy buyer)
Delighted with our beautiful prints from Victoria
(Etsy buyer)
Thanks Victoria. I love it, a wee reminder of my time in Dundee gazing out across the Tay.
(Etsy buyer)
I love this print! I've put it on my bedside table and whenever I look at it it makes me smile ❤️
(Etsy buyer)
I've been looking for something for my home from Victoria for some time and delighted to have found a couple of lovely pieces here. Fantastic contact and looking forward to finding the right spot for them. Thanks so much.
(Etsy buyer)
Delighted with my chosen work from Victoria. Admired her work for some time and now looking for the right place to show them off. Great delivery, received the next day and great comms. Thanks.
(Etsy buyer)
Beautiful cards! I love Victoria's work and these little cards are the perfect way to share it ❤️
(Etsy buyer)