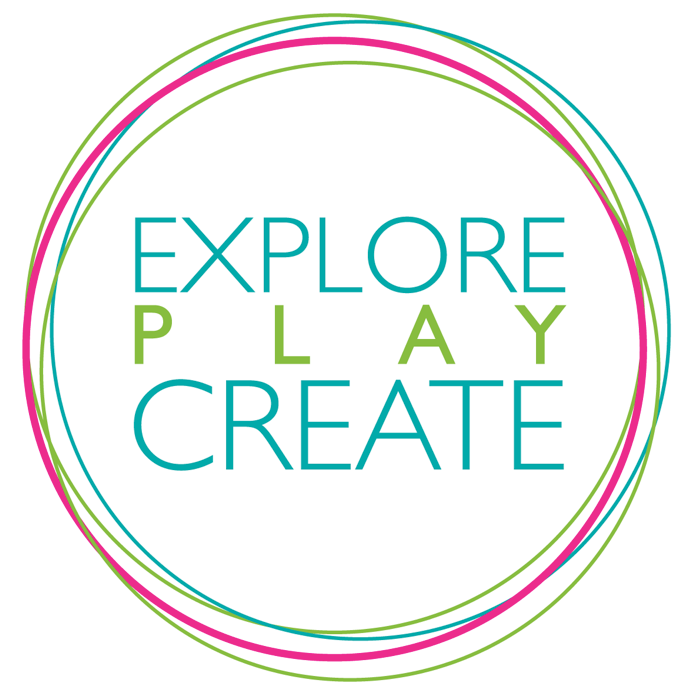 The EXPLORE PLAY CREATE workshops encourage curiosity and cover many aspects of creativity – including design thinking, fine art processes and craft making.
EXPLORE ideas, PLAY with materials, CREATE wonders!
"If you would like to take part in creative processes and have the opportunity to investigate, experiment and maybe get a little bit messy, then these workshops are for you!"
+ Discover possibilities, develop abilities, express ideas and have fun!
+ Play with colour, pattern, textures, processes and materials.
+ Make new friendships – share, explore, discover, experiment and imagine together.
Some of the workshops produce a finished creation to take away, others are process-led, some may be collaborative – all will be based around themes and stories.
Returning participants are invited to contribute their ideas towards the development of workshop themes to ensure their interests are met.
Workshops groups are small – this ensures each child gets focused attention with their activities and also offers greater potential for children to develop positive relationships with other children while sharing, exploring, experimenting and imagining together.
No previous experience necessary.
Workshops can be designed for children and adults of all ages and abilities!
Reviews
Your workshop was the highlight of my kids summer. They absolutely loved it and there art has pride of place in our house. Thank you you give so much to these classes and so much to the kids. You are a very important person to my kids and they love your classes.
My children who are 10 and 5 have been attending the class for a few weeks and they both absolutely love it , they come home enthusiastic, happy and satisfied , they enjoy being with other children and enjoy being with Vicky especially. Vicky has given them an outlet for their creative personalities and encouraged them to have confidence in their own abilities. It is a wonderful, relaxed and happy place for children to learn and explore.
My 5 year old son loved the workshops. Vicky is brilliant at setting up activities to help unleash their creativity and he had so much fun to boot. He can't wait for the next block!
My 3 year old had a wonderful workshop with Vicky. She is excellent at encouraging kids to develop their own creativity within an idea rather than following a set regime. It's amazing how much potential this releases. Will be signing up both kids when the next block is out. Thanks!
The kids have had such a lovely time with you, Vicky. For them both you provide such a lovely important role and I really am incredibly grateful. As they are both on the spectrum they're contact with others can be really limited but they are both very comfortable and happy with you and that means a lot to me.
Great time had by my two. Oldest loved the shaping mod rock into birds then painting, youngest loved drawing and painting. Fantastic to meet everyone, big thank you from us all Vicky.
Vicky came along to Marykirk Bumps, babies and toddlers to give a taster session to our members. We all worked on one big masterpiece which was great fun, using crayons and paints, getting messy and learning about colours along the way. I would highly recommend her sessions if our taster is anything to go by! Thanks so much Vicky! I can't wait to cut up the masterpiece for everyone to take home x
Would highly recommend the pre school workshops. Lots of fun and exciting adventures. Great value too. Lots of enthusiasm from Vicky. Looking forward to the next block!
Thanks so much for the workshops – a huge thumbs up from our two! They really enjoyed their crafting – F would have liked longer, just coz she was having such a great time! M is proudly displaying her diorama for all to see, it is lovely and she is rightly proud.
My girls (10 and 7) attended a summer class this week with Vicky. They absolutely loved it, and are keen to attend a block in the autumn term. The activities are great for all ages. I loved the fact they were outside most of the time. Highly recommend the classes.
R & R both thoroughly enjoyed the workshops – a perfect collaboration of the children in the group, the activities, the banana bread and yourself! Thank you so much for your quiet, gentle and encouraging approach, we'll definitely be back for more.